Now that I'm the proud owner of a JJ Cole Arctic Bundle me (yippee!) I can plan for some awesome runs. But, then I come to a very difficult question - do I rely on my "old faithful" running routes or venture off and try something new? ::sigh::

Here are some of my old faithfuls...
SUNY Purchase:
[Map from Google maps]
I LOVE this 5K (3.1 mile) loop. It's approximately 10 minutes down the road, which means we can usually get there and back without falling asleep in the car. Not only are there plentiful parking areas, but there is relatively little traffic (let's be serious, college students are not awake and functioning at 9am, especially at this artsy school - the #5 druggiest college (
See here
)). Also, there's a pretty good sized hill at the back of the school that's just long enough to view as attainable. Plus, it's in the Westchester Regional Airport flight path most days of the week, which I can see being valuable to a bored toddler. I can already hear "Wook! AIRPAAAAAAAANE!"
Tod's Point: (aka Greenwich Point)
[Also Google maps]
Wait, what? What is all of that blue on the map? Yes, that's right. WATER. This is one of the most beautiful places I've run, and I grew up only miles away. Spoiled. It's about 15-20 minutes away (depending on what time of day of course - Stamford traffic is a nightmare!). Non-residents are allowed in during the off-season without having to pay for a pass, and dogs have been allowed since the first of this month. The 'lollipop' loop is about 2 1/2 miles (? - I'll clock it when I run it next), and the circular part has one way traffic with a very slow speed limit. There are always people here running, biking, roller blading, taking photos, painting, sailing.... Ben and I used to park in town, run down, around and back. Only potential problem with this old faithful is that it's usually about 5-6 degrees colder and can face some pretty strong winds on certain days.
Or, do I try something new?
New could be good, but I always get a little bit nervous about trying a new running route, and the uncertainty that comes with it. Maybe it'll be worth it!?
This is a map of the North County Trailway, of which the southern trailhead is about 20 minutes away. The trail is 22.1 miles long (!) and appears to be paved the whole way from other people's reviews. Plus, the views look awesome (see below). You can venture south from this point, but from what I've seen you'd have to cross a few major roads as the path weaves towards New York City.
[Map and below photo from www.traillink.com]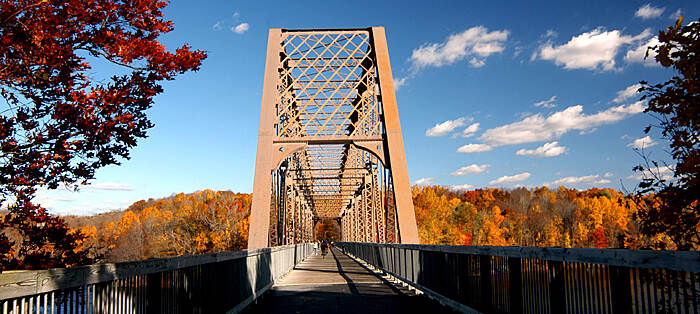 Ah, fall in the northeast...
This is the Bronx River Parkway.
Now, it's not totally new - I've run the three northernmost miles, but haven't done the southern section or gone south of the first encountered train station. (Honestly, I couldn't figure out where the path started up again on the other side!) The 'top' of this trail is at Kensico Dam (free parking!) where my stroller class is outdoors, and it's super convenient located between the intersection of major highways. It's a bit hilly, and the low-lying areas can sometimes flood when there's been a bit of rain. Also, a downside is that you have to cross side roads quite often. (The parkway has traffic lights every few miles). I've heard, but haven't taken advantage of the closing of car traffic on the parkway between 10am and 2pm on Sundays during the summer. They do this for runners and bikers to enjoy all four lanes, how cool is that!?!? My sister, and avid runner Amie, used to run the south section of this trail regularly, when she lived in Bronxville/Tuckahoe - and she loved it.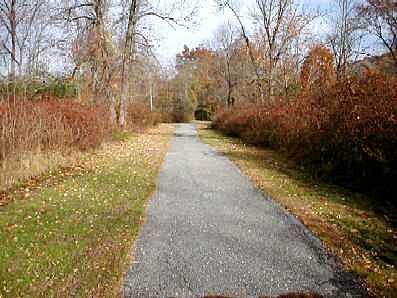 So, where will munchkin and I run on Friday? I guess it'll depend on how adventurous I feel!